1) Mt. Fuji Downtown Fujinomiya Culture Ecotour (6.5 hrs.)
Visit Mt. Fuji Shrine in a Japanese kimono, learn to make Japanese sweets from a craftsman and brew tea Japanese style with English speaking guide
Fujinomiya City is the gateway to Mt. Fuji with the main Sengen shrine which enshrines Mt. Fuji all over Japan. This shrine has a history of over 2000 years and was designated as a UNESCO World Heritage Site. Mt. Fuji's spring water wells up in the shrine itself. Get dressed in a summer kimono at the local kimono shop, walk to this shrine with an expert English speaking guide and learn to make beautiful wagashi (Japanese sweets) with a Japanese confectionery craftsman. At the end of the tour, brew Shizuoka green tea with Mt. Fuji's crystal clear water to enjoy with the wagashi you just made. With groups of up to 10, you can enjoy a more intimate experience of the cultural beauty surrounding Mt. Fuji.
・Season:      All year round
・Group size:  Up to 10 people *minimum 2 people
・Tour Fee:  15,000yen (excl. tax)/person
・What's included:
English speaking guide, Kimono Dressing & Rental, Japanese sweets making, Green Tea Brewing, Photo
・What's NOT included: Lunch
Itinerary
09:30
Meeting at Ecotourism & Art Gallery En-Ya
 
Getting dressed in Kimono at the Japanese kimono shop
11:30
Visiting Mt. Fuji Sengen Taisha Shrine with an expert guide, Photo Shoot
12:30
Free time (Lunch of your choice)
14:00

Learning to make Japanese sweets from the craftsman

Brewing Shizuoka Green Tea with Japanese style

16:00
End of the tour at En-Ya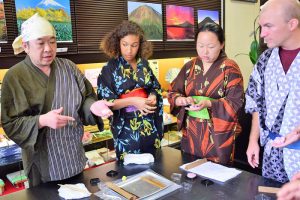 Note:
・The tour should be booked at least 3 days in advance.
・To prepare Kimono, let us know information below when booking.
1) Your gender 2) height 3) Clothing Size (in US size)
・Please inform us the diet limitations or allergies beforehand. *Vegetarian or Muslim friendly meal can be prepared.
Contact:     info@ecologic.or.jp